30-day Money Back Guarantee
Any incorrect or defective products may be returned. Returned products must include a completed RMA form. Within 30 days of original purchase, we will supply a return shipping label if the return is approved and the product was damaged during delivery, dead on arrival, or the wrong product was shipped (After 30 days from the original purchase date the customer is responsible for shipping charges to return an item). We cannot refund any postage directly paid for by the customer.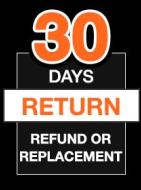 If we determine an item was returned with no defect or due to user error you will be responsible for shipping charges to and from our warehouse.

When returning a product, please be careful to pack the product appropriately to avoid damage during return shipping. Detailed instructions for returns are included on our standard RMA form. We recommend you choose a shipping method requiring a signature upon delivery to Stellen. If a product is lost or damaged in transit back to Stellen, please contact the carrier to resolve the problem.
Satisfaction Guarantee
If, for any reason, you aren't satisfied with the product you purchased or it does not suit your anticipated application, you are welcome to return that product within 30 days from the date of purchase for a refund or a replacement. Products must be returned in original condition including all manufacturer's packaging, cables, software disks, and instructions. Be sure to include the completed RMA form. Shipping charges will not be refunded unless the wrong product was shipped or the product was damaged during delivery or dead on arrival.
International Returns
You are responsible for all duties, taxes, and any other fees required by your country once your order has shipped. If your order is refused on arrival, shipping and any additional fees incurred will be deducted from your refund. The original shipping fees and the cost of any shipping fees associated with returning or exchanging products are your responsibility and are non-refundable.